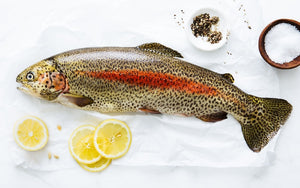 What you're getting:
McFarland Springs Rainbow Trout
Oncorhynchus mykiss
(2.5#) Whole Trout, Scaled and Gutted.
Sustainably Farm Raised

Traceable Location: Susanville, CA
Key Information:
Raising the bar of sustainable aquaculture, McFarland Springs Trout is the first and only farmed fish in the World, raised on a 100% vegetarian diet. Causing zero harm to our wild ocean fish populations or their habitat and containing 3 times the amount of heart healthy Omega 3 fatty acids than wild salmon! "The world's most perfect protein."
What you're *NOT* getting:
Conventionally farmed fish feeds contain: traces of heavy metals, PCB's and plastics, artificial dyes, GMO corn/soy/wheat, chicken byproducts, hormones/antibiotics. You will never find any of these in McFarland Springs Trout.
Tasting Notes:
McFarland Springs is a steelhead strain of Rainbow Trout so it tastes like salmon! Rich in heart-healthy