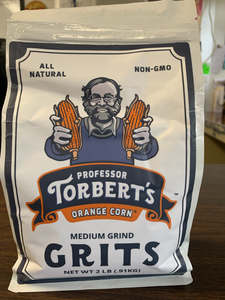 The Best Corn Grits Ever!
NON-GMO | This corn was bred the old-fashioned way. Hand selected year after year by Professor Torbert.

NUTRITIOUS | Professor Torbert originally developed his orange corn to help alleviate malnutrition in Africa.

DELICIOUS | Our orange corn has a rich flavor and smooth, creamy texture like no other.

NATURALLY GLUTEN FREE* | *Processed in a facility that also handles wheat.

READY IN 10-15 MINUTES | We use a medium grind that cooks quickly and also makes these grits suitable for preparing polenta. If you are looking for a coarse, stone ground grit that takes 20+ minutes to cook and produces a more "structured" texture, these grits may not be for you.